I cried this morning as I got ready for work. I don't often do that. But I also don't often weigh myself either.
But I'm starting a new journey… or rather, continuing my journey. I've shared my weight loss journey before – especially the highs when I reached goal weight and maintained it for nearly 18 months.
Then the voices in my head became louder and more pronounced, telling me that I am not worth it. Telling me that I am not beautiful and that no one will ever love me. Telling me lies day after day. And I started to believe these lies.
I started to not feel like myself. I started to gain weight and recommit each Monday to a new weight loss plan or idea or book that might help me.
But nothing every seemed to change. Really I did nothing to change the addiction that held me. The addiction to fast food. The addiction to diet soda. And the addiction to over-eating in private.
So now I'm getting honest. Honest with myself and with you. (As you will see in a moment… REALLY honest.)
Over the last nearly 2 years, I've been to countless (well, I *could* probably count them, but I won't) therapy appointments. I've been to numerous doctors appointments.
My goal weight is approximately 160 pounds.
Which means I've gained more than 115 pounds in about 2 years.
This brings the shame that I spoke about before.
This brings fear. This bring tears. This brings sadness.
I don't want to be like this. I've said it a million and one times here before, and I'll probably say it a million and one times again.
But I want to be wearing my size 8 jeans comfortably again. Not squeezing into size (maybe) 20 jeans.
I want to shop in the stores where I have multitudes of choices. Not limited to a few stores where I feel horrible each time walking in.
And one of my biggest fears is seeing the "300" number on the scale again.
So I'm starting on a journey today – a two-month journey – where I've put my money where my mouth is and signed up for the #iWillRockThis weight loss challenge with Wendy.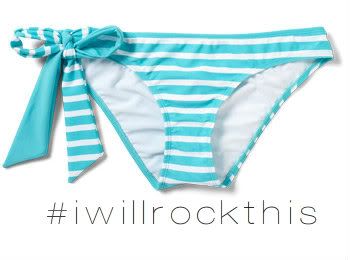 If I win – I get multitudes of awesome prizes. If I don't officially win… well, then I win just by losing weight I hadn't worked at losing before. So really… it's a win/win situation for me.
I need support. If you live near me, ask me to take a walk with you. If you don't, maybe we can go on a virtual walk together. Maybe you have some great recipe or cooking ideas for this (seriously!) ever so picky eater. I'm going to work to get back to eating whole, real foods as my priority. But that means I have to go grocery shopping too.
If you are on My Fitness Pal or MapMyRun… be sure to find me there. I'd love for some support as I'm tracking my food each day.
I'm hoping that this "funk" I'm feeling after this morning's weigh in will wear off soon… because I'm anxious to lose some weight and get back to a healthy life.