I've been so behind and overwhelmed after BlissDom in the last week or so that I have let my blogging habits slip a little bit… and have yet to get even a few of the highlights of the conference up to show you. So today I'm playing along with OhAmanda (another BlissDom attendee… but unfortunately I don't think I got to meet her!) and her Top Ten Tuesdays.
The top 10 picture highlights from BlissDom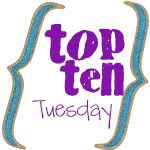 Having bling and a purse all in one.
For more information about Pursey and what she's raising money for: Project Purse and Boots
Looking for bread.
with Kelly
Being at the *beautiful* Opryland Hotel

Listening to Brene Brown speak… and then being able to chat with her.
Getting to meet a television star
Melissa Peterman of Working Class
Learning from AMAZING and talented writers.

One of my favorite panels was done by Cecily, Arianne and Heather
Meeting Scott Stratton. Hearing his closing keynote. Getting a copy of his book signed. Wow.

Hanging with Chris Mann

(p.s. if I had known who he was when I initially met him, I might have not been such a dork.)
Karaoke. Baby Got Back. #awesome

Leah, Jim Lin & Becky
Meeting friends. New and old. Love love love them all.

So there it is…
Do you have a BlissDom highlight that's not included in my top 10?